We embark on a journey to discover some of the most awe-inspiring and captivating tourist destinations that the world has to offer. From the magnificent historical landmarks to the breathtaking natural wonders, we will take you on a virtual tour that will leave you craving for adventure. So fasten your seatbelts and let's explore these top tourist places together!
Vietnam – A Budget Traveler's Paradise
Vietnam, a Southeast Asian gem, tops our list of the cheapest countries to visit. Its alluring landscapes, rich history, and delicious cuisine make it a budget traveler's paradise. Begin your journey in Hanoi, where the bustling streets come alive with vibrant markets and mouthwatering street food. Don't miss the chance to cruise through the picturesque limestone formations of Ha Long Bay. Head to the ancient town of Hoi An, renowned for its well-preserved architecture and delectable street food. Embrace the local culture, explore the fascinating Cu Chi Tunnels, and enjoy the warm hospitality of the Vietnamese people.
Indonesia – Tropical Paradise on a Budget
Indonesia, a tropical paradise comprising thousands of islands, offers an array of budget-friendly destinations. Bali remains a favorite among tourists, with its stunning beaches, lush rice terraces, and vibrant nightlife. Venture beyond Bali to Java, where you can hike up Mount Bromo for a breathtaking sunrise experience. Explore the cultural heart of Indonesia in Yogyakarta, home to ancient temples like Borobudur and Prambanan. For a more secluded and tranquil experience, visit the enchanting island of Lombok with its pristine beaches and majestic waterfalls.
India, a land of diverse cultures and landscapes, promises an unforgettable journey on a budget. Start in Delhi, where historical landmarks like the Red Fort and Humayun's Tomb await. In Jaipur, the "Pink City," immerse yourself in the grandeur of Amber Fort and the vibrant bazaars. Travel to the southern state of Kerala, known for its serene backwaters and lush greenery. The holy city of Varanasi offers a spiritual experience like no other, with its ancient temples and mesmerizing Ganga Aarti ceremony.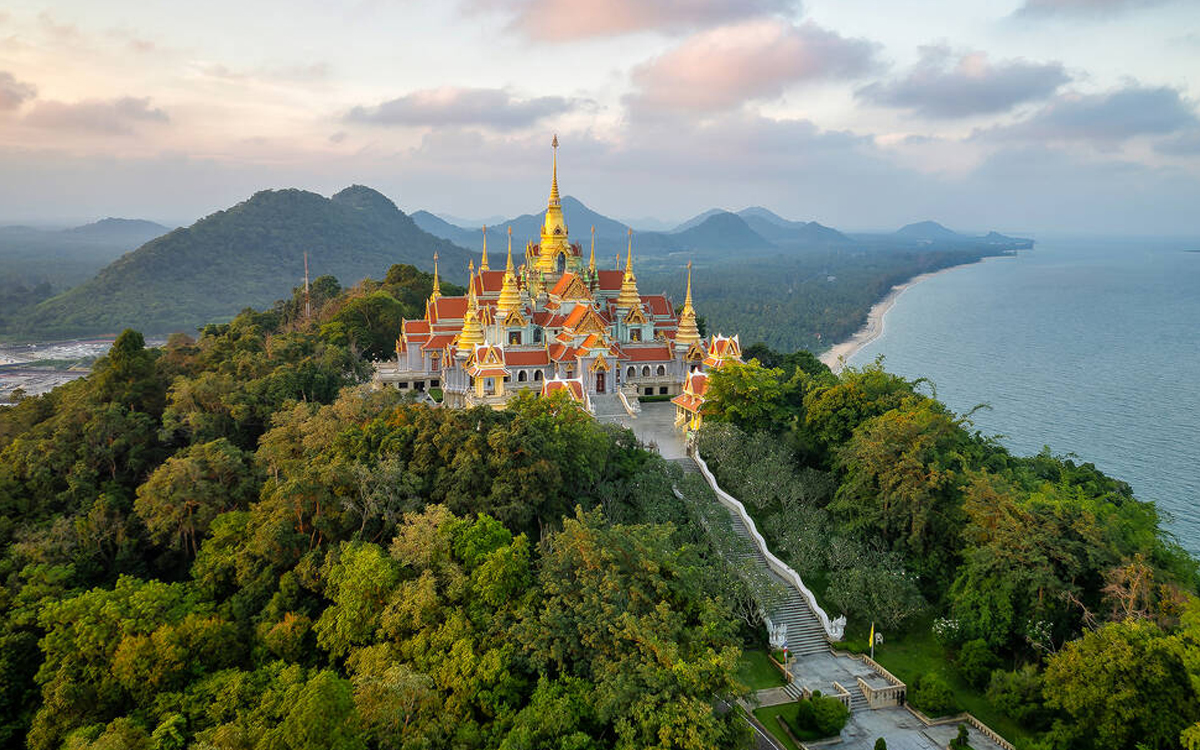 Thailand – Exotic Adventures at Bargain Prices
Thailand continues to be a favorite among budget travelers, offering a mix of exotic adventures and vibrant culture. Bangkok, the bustling capital, boasts awe-inspiring temples, bustling markets, and a thriving street food scene. Head to the idyllic island of Koh Tao for affordable diving and snorkeling opportunities. For a taste of Northern Thailand, Chiang Mai captivates with its ancient temples and rich history. Don't forget to explore the stunning limestone cliffs and clear waters of Railay Beach.
Cambodia – Unveiling Ancient Mysteries on a Budget
Cambodia beckons travelers with its ancient mysteries and warm hospitality. The iconic Angkor Wat complex in Siem Reap is a must-visit, showcasing the grandeur of Khmer architecture. Explore the floating villages on Tonle Sap Lake, and visit the lesser-known temples like Banteay Srei for a quieter experience. Delight in the charming town of Battambang with its French colonial architecture and vibrant arts scene. For a relaxing escape, head to the pristine beaches of Sihanoukville.
Nepal – Adventure and Serenity Without the Price Tag
Nestled in the lap of the Himalayas, Nepal invites adventure enthusiasts and nature lovers on a budget. Kathmandu, the capital city, boasts an array of UNESCO-listed sites, including the Swayambhunath Stupa and the Pashupatinath Temple. Trekking in the Annapurna region offers breathtaking views of snow-capped peaks and picturesque villages. For a spiritual experience, visit the serene town of Lumbini, the birthplace of Lord Buddha.
Bolivia – South America's Hidden Gem
Bolivia, South America's hidden gem, captivates with its diverse landscapes and indigenous culture. Explore the mesmerizing salt flats of Salar de Uyuni, a photographer's paradise. Discover the ancient ruins of Tiwanaku and the colonial charm of Sucre. Venture into the Amazon rainforest from Rurrenabaque, where budget-friendly jungle tours await. Don't miss the chance to visit La Paz, the world's highest capital city, and experience its vibrant markets and unique topography.
Laos – Timeless Beauty on a Budget
Laos, known for its timeless beauty and tranquil landscapes, offers a serene escape for budget travelers. Luang Prabang, a UNESCO World Heritage Site, is renowned for its well-preserved architecture and peaceful atmosphere. Embark on a slow boat journey along the Mekong River, passing through picturesque villages and stunning scenery. Explore the mysterious Plain of Jars in Phonsavan and immerse yourself in the laid-back charm of the capital, Vientiane.
Nicaragua – Affordable Paradise in Central America
Nicaragua, a hidden gem in Central America, promises an authentic and affordable travel experience. Begin your journey in Granada, a charming colonial city with colorful architecture and a vibrant cultural scene. Ometepe Island, formed by two volcanoes, offers a tranquil escape amidst natural beauty. Surfing enthusiasts will find paradise in San Juan del Sur, a coastal town with stunning beaches and a laid-back atmosphere.
Romania – European Charm at Budget Prices
Romania, a land of medieval castles and picturesque landscapes, captivates with its European charm at budget prices. Start your adventure in the lively capital, Bucharest, where a mix of history and modernity awaits. Explore the legendary Bran Castle, often associated with Dracula's myth, and venture into the mystical landscapes of Transylvania. Experience the serenity of Sibiu, a European Capital of Culture, and immerse yourself in Romania's folklore in Maramures.
Guatemala – Rich Heritage, Small Budget
Guatemala, a country rich in indigenous heritage, offers a captivating journey through history and nature. Explore the ancient Mayan city of Tikal, nestled in the lush jungles of the Petén region. Experience the beauty of Lake Atitlán, surrounded by picturesque volcanoes and traditional Mayan villages. The colonial city of Antigua enchants visitors with its well-preserved architecture and vibrant markets. For an adventurous experience, hike up the active volcano, Pacaya, and witness its fiery lava streams.
Ukraine – Unveiling Eastern European Charms
Ukraine, a country with a tumultuous history, boasts a captivating blend of medieval charm and Soviet relics. Begin your exploration in the vibrant capital, Kyiv, where majestic churches and lively street art create a unique atmosphere. Head to the charming city of Lviv, known for its cobblestone streets and coffee culture. Don't miss the chance to visit the historic town of Chernivtsi and explore the stunning architecture of the Carpathian Mountains.
Egypt – Unraveling Ancient Mysteries on a Budget
Egypt, a land of ancient wonders and mysteries, invites travelers on a budget-friendly journey through history. Experience the awe-inspiring Pyramids of Giza and the enigmatic Sphinx in Cairo. Cruise along the Nile River and explore the magnificent temples of Luxor and Aswan. Dive into the colorful underwater world of the Red Sea, where budget-friendly snorkeling and diving opportunities await. Don't forget to visit the cultural hub of Alexandria, brimming with history and a coastal charm.
Philippines – Tropical Paradise for Frugal Travelers
The Philippines, an archipelago of stunning islands, offers a tropical paradise for frugal travelers. Boracay, with its world-famous white sands, remains a popular destination for beach lovers. For a more secluded escape, visit the pristine islands of Palawan, known for their crystal-clear waters and breathtaking lagoons. Experience the vibrant underwater life in Moalboal and Apo Island while snorkeling or diving. Don't miss the chance to explore the rice terraces of Banaue, a UNESCO World Heritage Site.